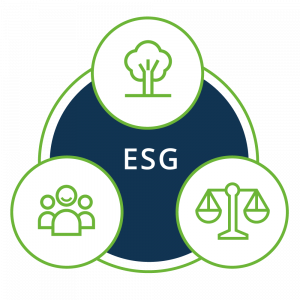 GARBE has been dealing with the issue of sustainability for over 10 years now.
For this reason Environment, Social & and Governance has long been a part of each of our departments.
We combine all of our initiatives in the field of ESG under the motto "Responsible by Choice".
Environment – Acting in an ecologically sustainable way:

Minimising the carbon footprint in portfolio management: energy efficiency through selected manage-to-green measures, responsible handling of demolition through recycling, preserving embodied energy by extending the life of buildings
ecological and sustainable project development
transparency through efficient data management, certification and benchmark reports
Find out more about our ecological and socially responsible project developments!
Sustainability in new buildings: Find out more about our project
Which has the better ecological balance: new construction or development of existing sites?
Social – Social responsibility as a company and business partner:

When planning and building our properties, we also take into account social compatibility for users and the environment
Social responsibility as an employer: Modern, ecological, socially sustainable and family-friendly workplace
Social responsibility in society through focused social projects, initiatives and donations such as blood and bone marrow donations, health projects and research, such as promotion of the smashsmard initiative, social days for dedicated employees
"I've been with the company for over ten years and every day I can develop anew."
Every year it is important to us to support a Hamburg foundation ...
A successful registration campaign for the DKMS.
Governance – Sustainable company management

Only those who operate sustainably will be able to offer ecological and ethically justifiable investments in the future. And only those who develop their business sustainably will still be able to offer their employees a secure and socially acceptable job tomorrow as a stable employer.

Mission statement with solid values that also support our society, as well as appreciation and personal responsibility
Sense of responsibility towards stakeholders, resources and society
Promotion and support of ESG-compliant behaviour among our employees and business partners
Responsibility and design of the workplace for and also by our employees: Top-three employer at TopJob
Responsible portfolio management & "manage-to-green".
GARBE Industrial was awarded the Top Job seal.
Sustainable investments: For a profitable ecological balance
Stefanie Koetschau, Head of Business Development
About her role at GARBE and the influence of sustainability and ESG issues on her work.