Christmas baking with the Mittagskinder Foundation
We feel it is important to support a Hamburg-based foundation that focuses on working with children and adolescents every year. That is why we are always on the lookout for a project or a club that touches our hearts. When a colleague came upon the following sentence on the Internet: "We want to open doors to the world and to life, which have been closed until now!" we quickly realized that we wanted to actively support the Mittagskinder Foundation this year.
We were immediately impressed by the diverse commitments of the Foundation. With a lot of dedication and a full appointment calendar, children are encouraged to develop their personality and to design their life choices.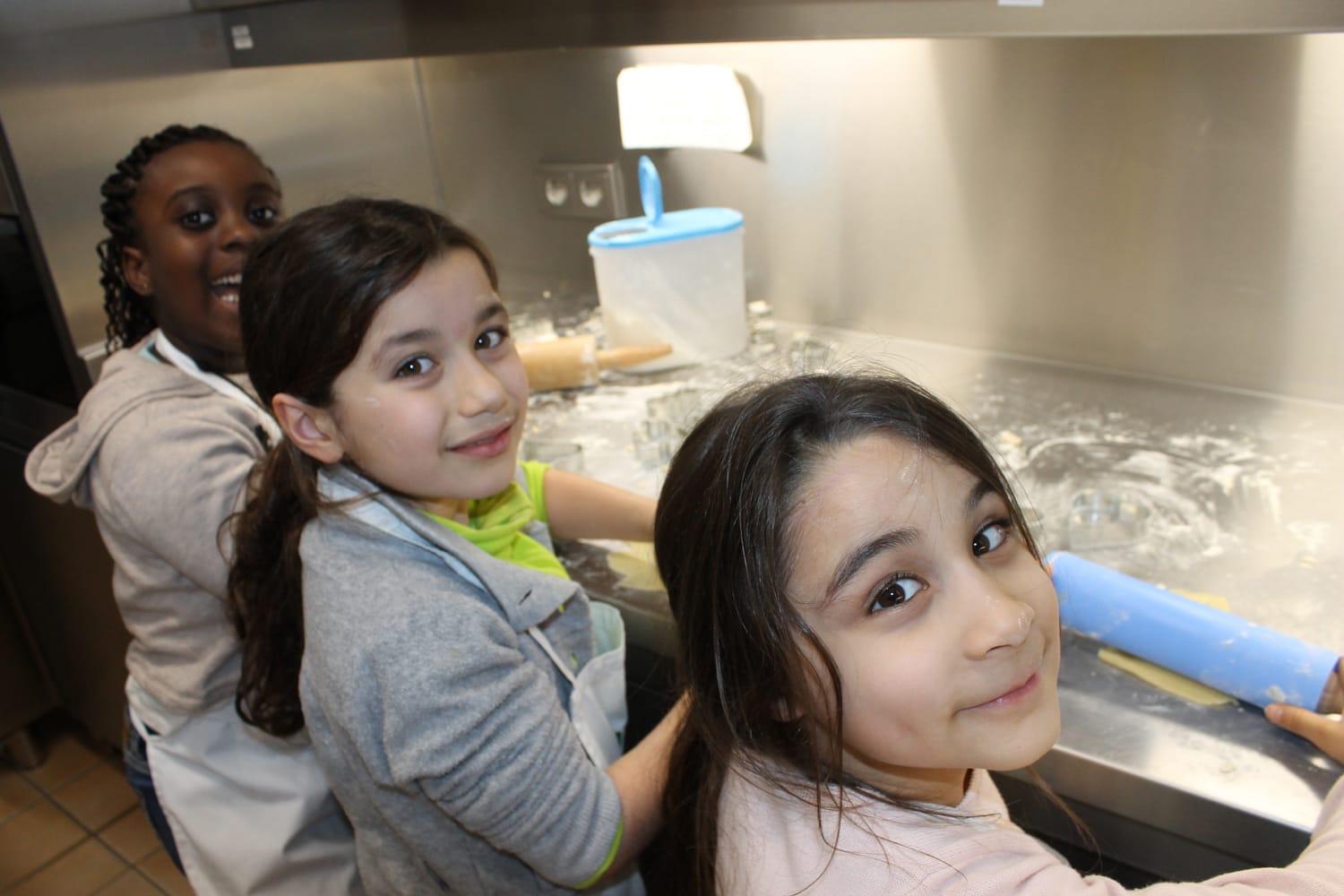 Children's events have already been held in two districts in Hamburg since 2007, where children feel a sense of security and a reliable framework. Every year, more than 200 boys and girls from socially disadvantaged families are cared for and supported. In addition to being a place where adolescents can rest, do homework and spend nice afternoons, the Mittagskinder Foundation organises reading activities and children's theatre. The children and adolescents from poor family situations are the subjects of particular focus here, and they can experience security and a reliable Framework.
On a Friday in December, we had an opportunity to see the Foundation's great work for ourselves and, above all, to be convinced of the necessity of their work. With a few trinkets under our arms, we were warmly awaited by many curious faces at the Neuwiedenthal children's Event.
A healthy lunch was on the agenda before we went about the Christmas baking with the children. We had to smile a little when the food was handed out: Spaghetti Bolognese, or with tomato sauce instead, and a home-made salad – the children's absolute favourite food. The children's setting and clearing of the table is something of a ritual, as the children tell us during the meal. Most of the children here are between 7 and 12 years old and they come from socially disadvantaged families where it is not a given that the children will have a healthy, hot meal. Not to mention whether they go to school or do their homework.
The collective baking session started after lunch. Everyone wanted to try out the dough, to cut out the biscuits and decorate them colourfully. In small, divided groups, the dough was then rolled out and cut – "Look at what I decided to do for Santa Claus", was a phrase we heard more than once this afternoon. After the biscuits were baked and cooled, the young little bakers were given the chance to choose their favourite ingredients at the "decoration station". With the help of colourful sprinkles, sugar beads and goodly amounts of chocolate glaze, the children decorated everything they had between their little fingers, as well as their hands, aprons and the entire kitchen. And at the end of the fun day we were not too surprised at the huge and, above all, colourful cornucopia of magical biscuits.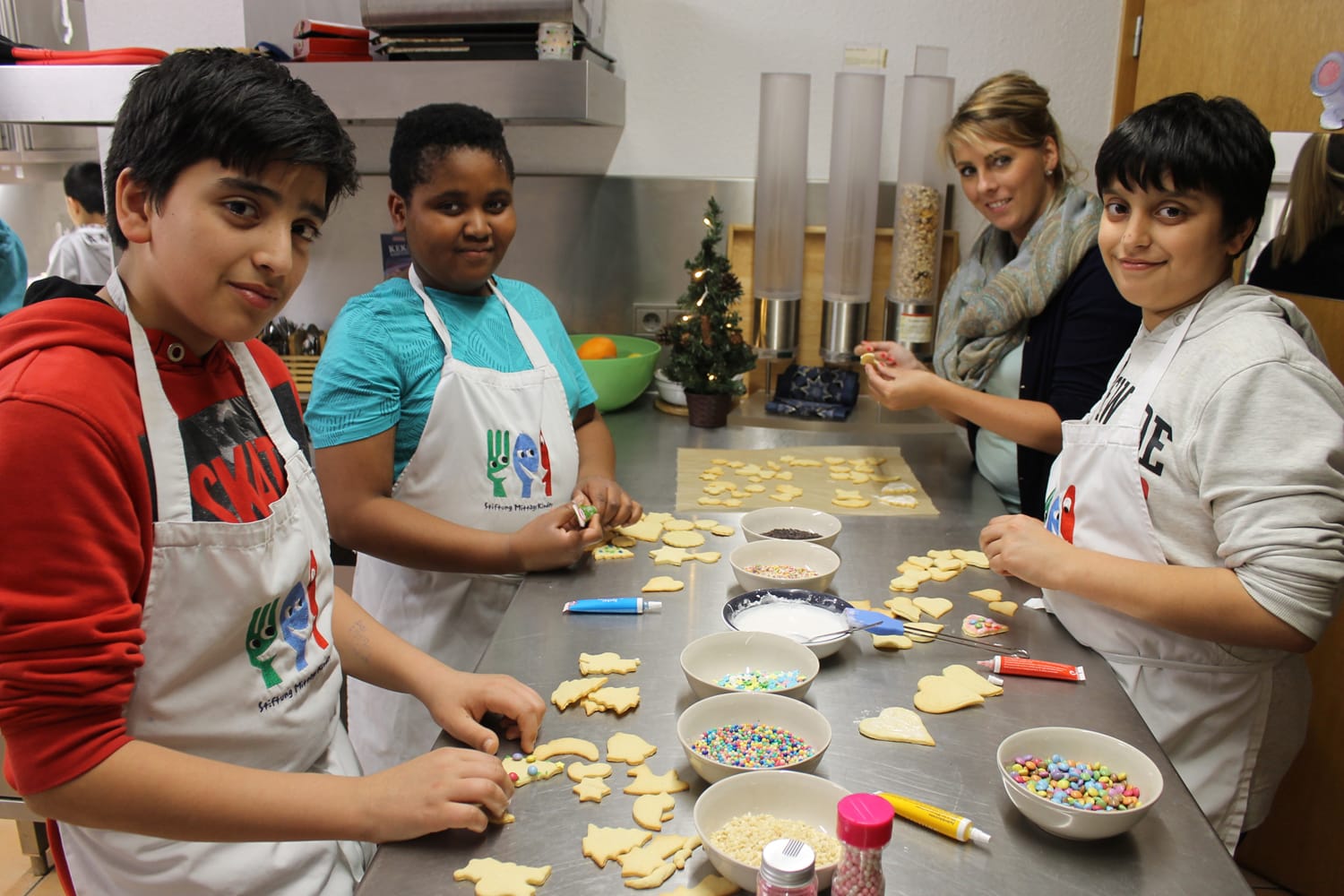 Fridays are also a special day when the children get together, because there are always cakes and the children's birthdays are celebrated every Friday. One thing that we liked in particular was the fact that the children could also express their wishes for birthday and Christmas gifts and celebrate this special day together, because unfortunately it is not a given that birthdays or even Christmas will be celebrated in all families. "We'll get our Christmas presents tomorrow," Adem whispered conspiratorially, looking towards the office door that conceals the long awaited gifts.
In the end it was especially nice for us to see that the Foundation is not some giant institution, but instead a small organisation that is more like a family. Everyone knows everyone else here and focus is solely on the children's well-being. These children are given a foundation for their future thanks to the support and encouragement they get here. Whether it is help with their homework, new life experiences or just dealing with normal, everyday life. The goal is to create an environment for the children that they do not experience at home.
We would like to thank the Mittagskinder Foundation once again for the great afternoon at your children's event in Neuwiedenthal. Not only did we have a lot of fun with the baking, but also getting to know these special children. This is the only way to recognise the need for support projects for children and how important it is to support this valuable work.