ESG Criteria: Standards for sustainable corporate governance
Environmental Social Governance, or ESG for short,
means environmentally and socially sustainable corporate governance, for the responsible use of resources for the society in which we live and work.
Today and for the future.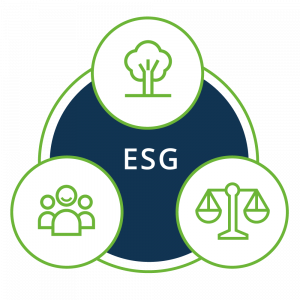 What are ESG criteria and how are they embodied at GARBE?
ESG stands for Environmental Social Governance and thus for the principle of sustainable corporate governance, which always focuses on ecological factors, social interaction and ethical guidelines.
Environment: ecologically sustainable management.
In our business, this means dealing responsibly with the raw materials used and planning, constructing and managing a property as efficiently as possible from an ecological and energy perspective. Of course, we do not leave out the so-called embodied energy, namely the energy that is already part of existing buildings and which would largely be lost in a demolition: Sometimes, it is, therefore, also worthwhile from an ecological point of view to extend the life of existing buildings as far as possible.
Social: sustainable social action is a top priority at GARBE.
We pay close attention to social issues in our environment during construction and with regard to existing real estate, but as a company, we also have a long tradition of social and societal responsibility. GARBE is very committed to health initiatives such as blood and bone marrow donations, the company collects monetary donations for health projects and research, it is socially involved in the form of social days and also promotes this commitment through special leave and active support of its employees.
Governance: for sustainable and responsible corporate governance
For us, it goes without saying, but it must be mentioned. We behave in a law-abiding manner and with moral integrity, and the company is managed responsibly. Our mission statement is based on the solid values that also underpin our society, as well as on a sense of appreciation and personal responsibility. Employees are treated with respect, are encouraged and challenged, and are also given the opportunity to help shape their own working environment. The company is family-friendly and progressive, and the office premises take into account the latest standards that ensure the well-being of our employees.
Of course, transparency is also part of our ESG standards, not least in the interests of our customers. In doing so, we are guided by common reporting standards such as GRESB and CRREM. After all, creating data transparency is the necessary and important first step towards achieving the climate targets that have been set – towards a truly sustainable real estate industry.
Sustainable investing at GARBE
Our ESG criteria list
We build ecologically: around 90% of the logistics properties we build meet the DGNB Gold Standard.
Green energy: We offer a ready-made concept for the construction of photovoltaic systems on hall roofs.
More efficiency: We enable extensive ecological retrofitting of existing properties, such as LED lighting systems, motion detectors, automatic gates, PV systems also in retrofitting with e-charging stations, etc.
We conserve embodied energy: by carefully weighing the extension of the life of existing properties against the demolition/new build option, including from an environmental perspective.
Brownfield sites: we avoid land sealing by redeveloping brownfields and brownfield sites.
We develop innovative building forms: while respecting ESG criteria of environmental and social sustainability, thus also providing an opportunity for optimal land use in a peri-urban environment.
Consideration for our surroundings: by building attractive façade designs and social initiatives in and around our office locations
Data transparency: we support the owners in creating more transparency.
GARBE ESG criteria for more sustainability in the company
Sustainability is part of our ESG standards: not only do we want to do business responsibly today, we also want to be able to do so in the future for ourselves and future generations. Sustainability for us here refers to both the e-topics, as well as the s-topics in ESG… and, of course, governance, sustainable corporate management. This is because it is just as important to manage the company efficiently so that GARBE can continue to promote ecological and social issues tomorrow as a strong partner and responsible member of our society.
New construction or renovation of existing buildings, what is ecological and sustainable?
Unsere These: in vielen Fällen ist es ressourcenschonender in ältere Bestandsimmobilien zu investieren und diese zu betreiben, statt den Neubau bzw. Abriss & Neubau anzustreben. Nun hat GARBE-Research den CO₂-Fußabdruck der unterschiedlichen Lösungsansätze untersucht.
Learn more!