E-commerce, quo vadis? Hybrid logistics buildings as a market niche
Hybrid logistics
Hybridlogistik
Disruptive market changes as caused by digital business models in our day and age – what could be a greater challenge to the rentability of a building without follow-up investment? It is particularly the fast-paced speed of advancement in logistics automation – partly driven in Germany by pay levels and the lack of labour or the degree of trade union organisation – that is changing the often enormous building types required by the big internet-only players (Amazon, Zalando) within just a few years. Desirable locations are also shifting away from the "middle of Germany" due to increasingly shorter delivery times and increasing quantities. Regionalisation will impact central warehouses.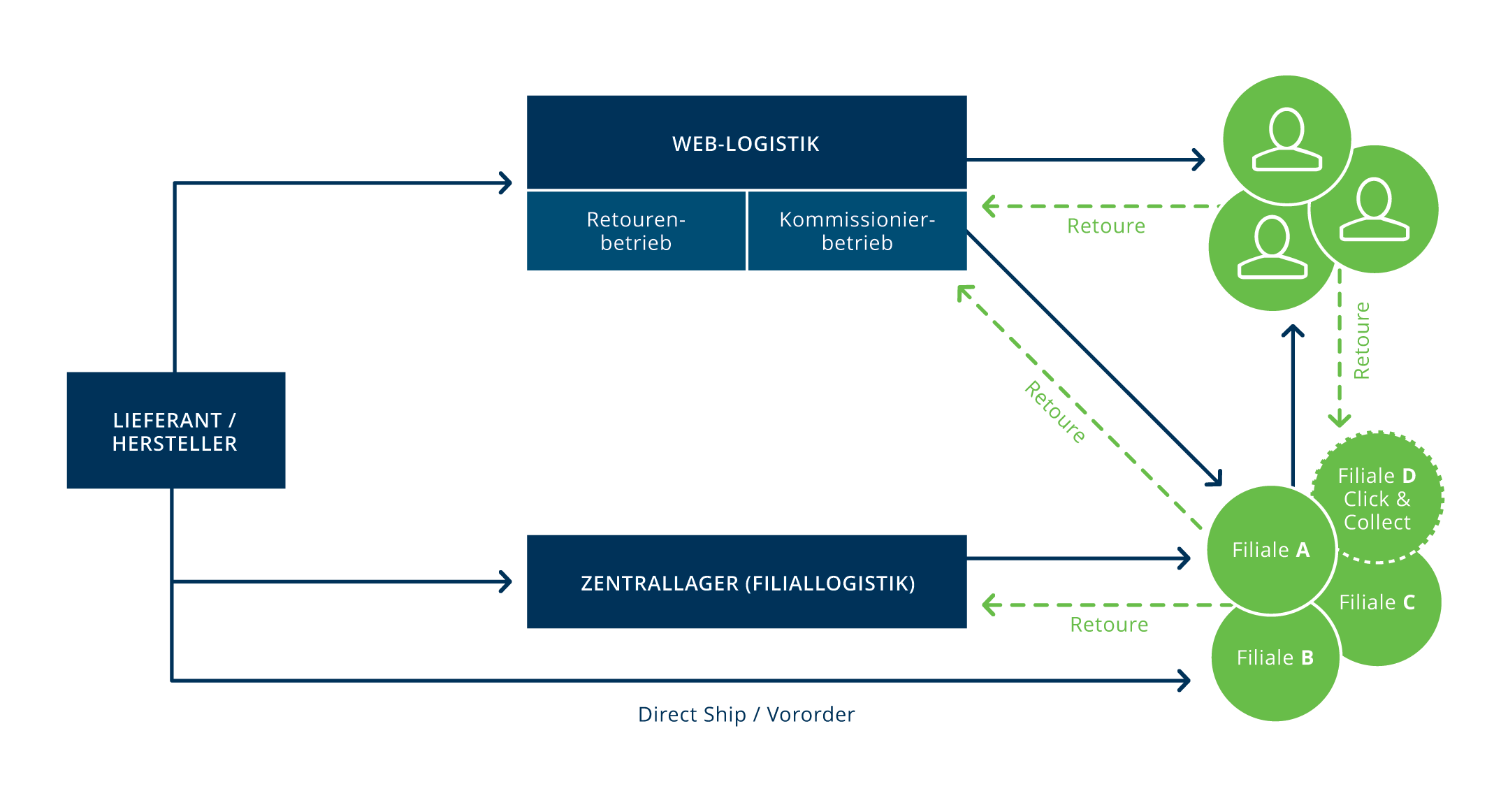 Viva! Powerful brands – vibrant branch store trade
But at the same time there are still strong consumer item brands where sales routes follow a combination of branch store and internet, and these look set to defy the pure players on a permanent basis. There is an opportunity here: while these providers once supplied their branch stores from different centres than online customers (i.e. separate stocks), the networking of all channels forces the creation of an omni-channel, with no-line trade creating a merger of these logistical alternatives so as to be able to survive in the competition for costs and speed. Retail logistics of the future: hybrid logistics makes channel-hopping easier for end customers.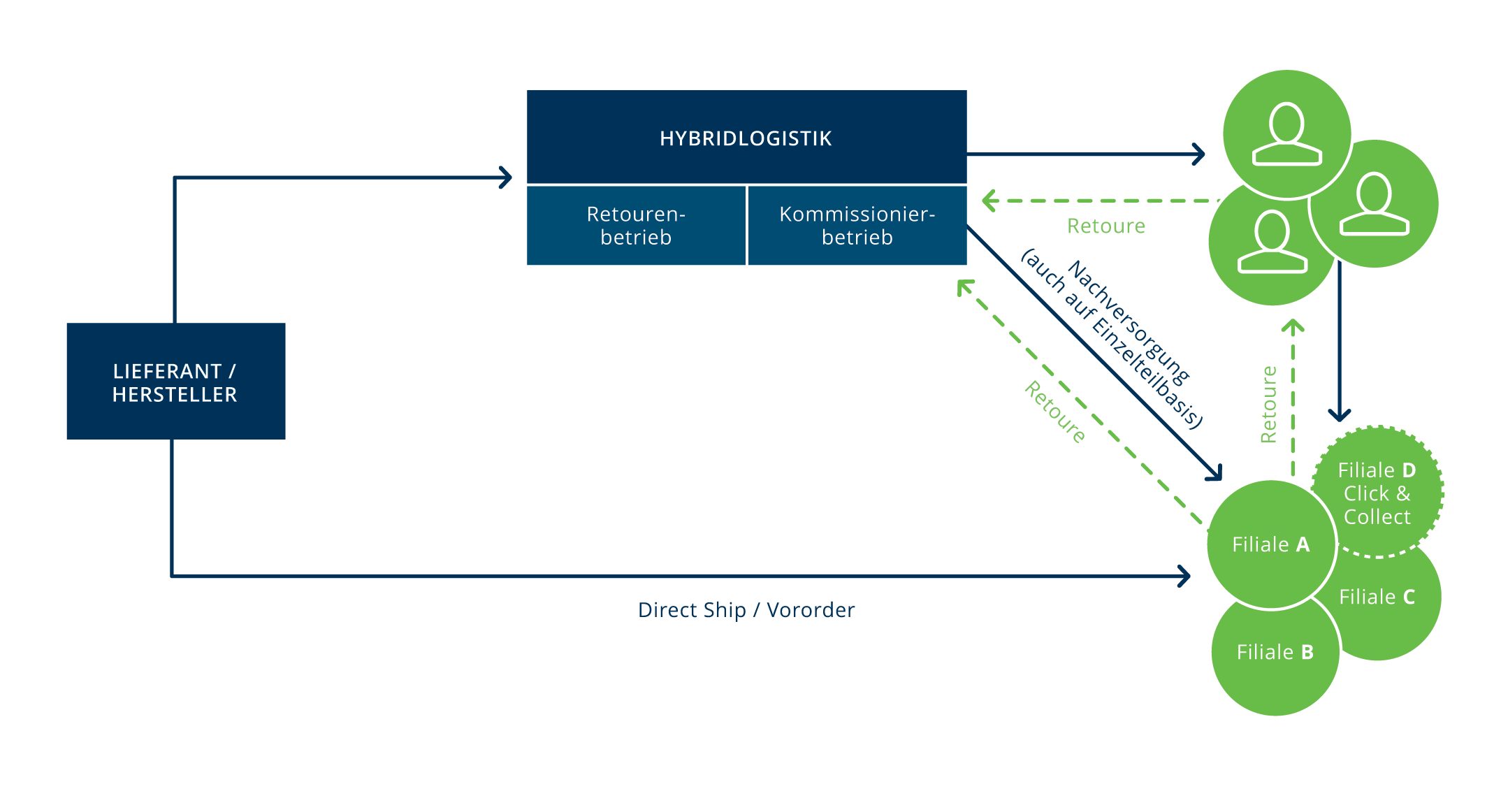 Near to the standard and highly promising: hybrid logistics hall
What do these buildings look like? With a surface of area of between 20,000 and 60,000 m2 they are usually smaller than the pure player sites, which are often 100,000 m2. But at the same time they are less "special" – mezzanines are used, but not as a genuine multi-storey feature. A greater depth and breadth of service is often provided for the end customer, so service and workshop areas are required to a moderate extent and there is a slightly higher share of office space as compared to the standard logistics hall, but not excessively so. The growth of throughput quantities is often more predictable and the sites with a metropolitan or regional link therefore enjoy longer tenant periods. All in all, these buildings are close to the standard logistics pattern in every way and are therefore definitely in demand among a large group of potential tenants in the event of re-letting. You can barely get more security of investment than this – combined with minimum temporary vacancy risk for fairly insignificant partial spaces such as a workshop!
We are happy to be involved in this development so as to be able to offer the fund managed by us a sustainable product: we currently have one showcase hybrid property under construction for the French sports equipment specialist Decathlon at our Westfalenhütte brownfield in Dortmund, for example. The future trends come together here: a hybrid logistics hall in a brownfield site for our customer Decathlon in Dortmund (completion November 2016).
Branch store logistics, e-commerce handling and service areas in a single logistics building – we call it hybrid logistics! In this case a building of >30,000 qm at the brownfield site of Westfalenhütte in Dortmund.