Groundbreaking ceremony for Decathlon at the Garbe Logistics Park Westfalenhütte
News

19/07/2016

The official groundbreaking ceremony for the construction of the new logistics centre for the French sporting goods manufacturer and retailer Decathlon took place today at the Garbe Logistics Park Westfalenhütte in Dortmund. The 32,400-square-metre facility, built by Garbe Industrial Real Estate GmbH, is expected to start operations in early 2017. This construction will provide Decathlon workspaces for around 700 employees who will take over supply to the branches in Northern Germany from there and who will also supply online customers.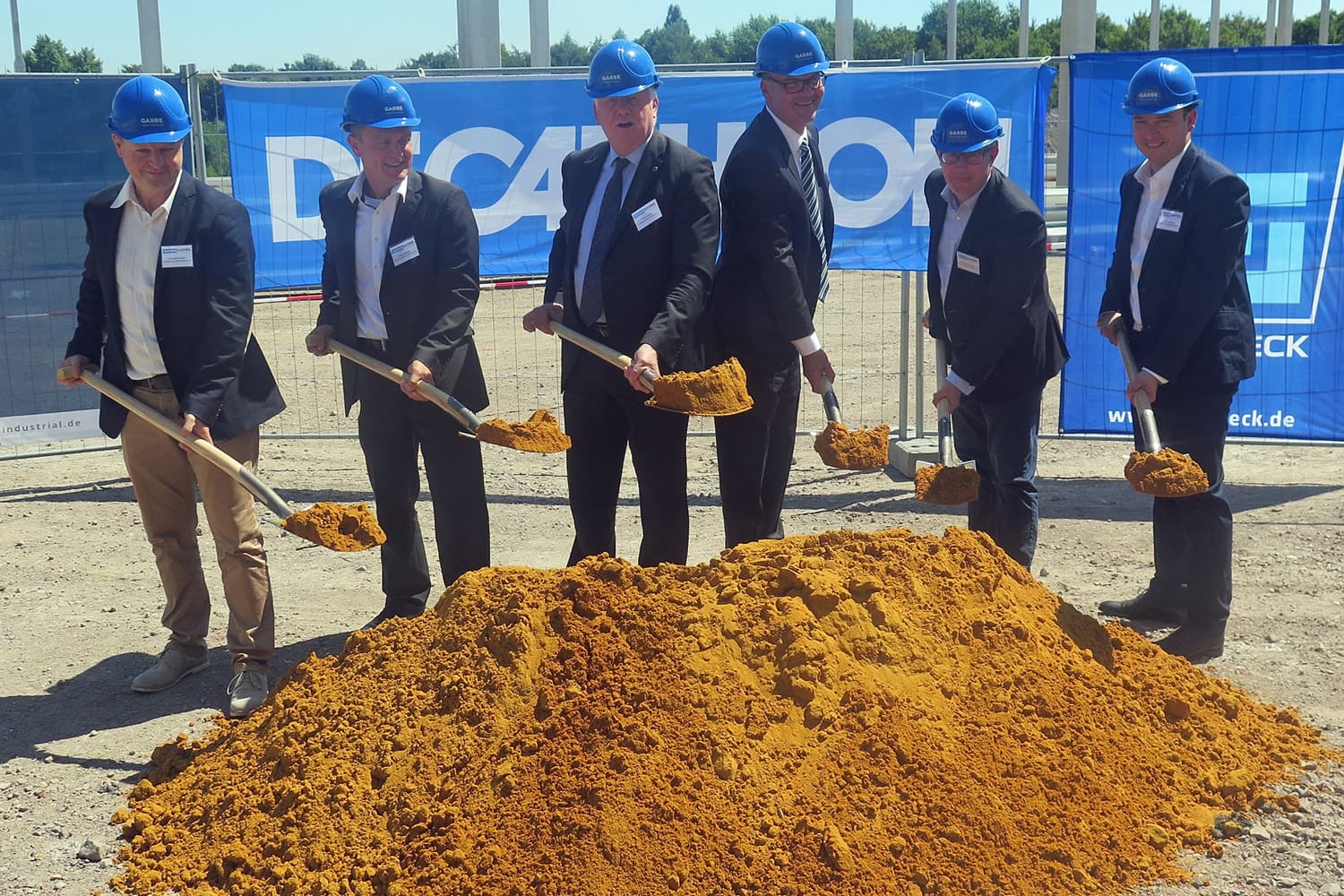 Garbe Industrial Real Estate is investing a total of about 26 million euros in the new construction, which is being built on a 60,000-square-metre site on the former Westfalenhütte property. The Hamburg-based project developer has already taken into account the requirements that arise from the strong trend towards omni-channel retailing in the design of the building. Sales channels that were once separate have been increasingly merging, since shopping is now largely independent of time and place – not least because of the proliferation of smart phones – in online shops, on Internet marketplaces or in traditional brick-and-mortar shops.
"Omni-channel commerce makes the distinction between offline and online commerce dissolve. There is a need for hybrid logistics centres, which can ensure the supply of goods to the shops and to online customers under one roof," explains Jan Dietrich Hempel, Managing Director of Garbe Industrial Real Estate GmbH. "The new facilities are geared towards this and at the same time they allow for fast and efficient processing of returns." The hybrid property is scheduled to be completed in December, at which time Garbe Industrial Real Estate GmbH will lease it to Decathlon for a term of ten years.
Decathlon manages the entire value chain, from research to logistics and distribution, all under one roof. That is why the sporting goods manufacturer and retailer will operate the facilities itself. To date, the company is primarily known for its shops in Dortmund-Aplerbeck, Dortmund-Kley and Herne. Up to 700 new jobs will be created in the logistics centre. "We primarily want to supply our branches in northern Germany from Dortmund," says Ludger Niemann, spokesman for Decathlon Germany Corporate Development. Until now, all of the shops have been supplied by the logistics centre in Schwetzingen near Heidelberg, which will be relieved a bit after the facilities in Dortmund are put into operation.
Decathlon uses automated systems for fast order processing of its online commerce and it will equip the logistics site with sophisticated sorting technology. "Online commerce is a growth area for us and one that we want to expand," emphasises Ludger Niemann. E-commerce returns will also be inspected and processed in the new hall. In addition, Decathlon's logistics centre will include a 1,150-square-metre customer service area where products such as bikes and skis can be repaired.
"Logistics generates a lot of jobs in Dortmund," says Lord Mayor Ullrich Sierau. "Garbe also contributes to this significantly. The fact that Decathlon is establishing itself here once again puts the spotlight on the advantages of Dortmund's location. We have taken a step in the right direction with the transformation of Westfalenhütte into a central logistics hub in Germany and Europe. We are moving ahead here with new work at an old location."
The logistics centre for Decathlon is the fourth property to be created in the Garbe Logistics Park Westfalenhütte. The Hamburg logistics property developer has previously completed two warehouses there for Schenker Germany AG, and a facility for ID Logistics. Since NicLen Gesellschaft für Elektronik, Handel und Vermietung mbH moved into the expansion areas in May, which were built as an addition during the construction of the logistics centre for ID Logistics, all of the halls are now fully leased. However, there is still room for other properties. "Altogether, we have more than 450,000 square metres of land at Westfalenhütte. An additional 120,000 square metres of hall space can be built in addition to the existing 80,000 square metres," says Jan Dietrich Hempel.