Development fund offers reliable financing
Investition
investment
Risikomanagement
In the project development of new logistics properties, the Garbe Logistic European Development Fund offers a high level of design freedom for planning and development, coupled with excellent access to the financial market.
THE GARBE LOGISTIC DEVELOPMENT FUND WAS ESTABLISHED IN 2007. GARBE INDUSTRIAL REAL ESTATE GMBH'S IDEA WAS TO:
let investors participate in the development of the logistics projects, to finance projects with the collected funds and to let the financial backers participate in the sale of the final logistics property.
"We are working in partnership together with Garbe Industrial Real Estate GmbH as an independent special fund," says fund manager Markus Keßler. The Development Fund therefore operates legally and economically independent from the company – in accordance with clear criteria that are prescribed by the Fund's prospectus for the capital investment of the investors' funds.
In the practical collaboration, Garbe Industrial Real Estate GmbH fund management is developing a competitive approach for the use and rental of a new project development. The locations, plots of land and market developments are assessed and the wishes of the prospective tenant are taken into account, as well as the requirements for the subsequent rentability of the property. If the offer fulfils the investment criteria and the performance is right, the Development Fund accepts it.
When doing so, he relies on Garbe Industrial Real Estate GmbH's extensive experience and expertise in the development of high-value, rentable logistics properties. This benefits the user: "Because we work in very close cooperation, we can usually make decisions quickly and respond flexibly," says Markus Keßler. This relates especially to the financing. The stable funding concept with a healthy project development capital base, according to Keßler, "also makes access to foreign financing significantly easier."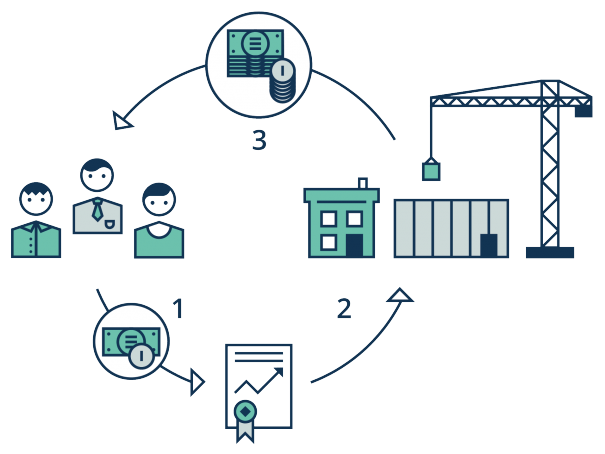 HOWEVER, IN THESE TYPES OF INDUSTRIAL CLUSTERS, THE TRIED AND TRUE RECIPE OF GENERIC LOGISTICS CONSTRUCTION WORKS ONLY IN PART.
Because of the well-rehearsed and reliable collaboration between the two partners, which has been in place since the founding of the Development Fund, Garbe Industrial Real Estate GmbH can often make commitments to users already during the design phase of new project development, provided that they move within the framework that is clearly defined by the Development Fund's rules. Here, the logistics property developer also assumes the role of moderator, who is familiar with the different interests of investors, users and buyers, and who tries to develop the best possible and most attractive solution for everyone involved. "Since real estate as a whole has become more of the focus, investors have discovered the logistics space in particular as an asset class of its own," says Markus Keßler. "They have increasingly understood the product and are willing to pay the highest prices for a cautious investment – and the capital for it is there." The prospects are good for Garbe Industrial Real Estate GmbH development projects currently financed with fund resources.