Chance industrial clusters
logistics properties
Logistikimmobilien
In addition to logistical hotspots in Germany, there are a number of industrial clusters that still do not show up frequently on the investment maps, but which nevertheless have a stable demand for good tenants. Garbe Industrial Real Estate GmbH is committed to these regions and continuously analyses the chances of sustainable industrial clusters that promote economic development.
WHEN IT COMES TO THE IDEAL DESCRIPTION OF A RENTABLE LOGISTICS PROPERTY,
the same criteria are usually mentioned in the market: They must be located near all possible modes of transport, have an indoor height of 10 meters or one gate per 1,000 square meters of floor space. These features in essence characterize a "generic" logistics property quite correctly and they are also widely accepted. The case is similar with the identified major logistics regions: They are not just colourful circles on a map; they symbolize the logistics hotspots determined according to scientific parameters and they provide valuable assistance in the site evaluation of a logistics property.
However, there are probably no generalizations without exceptions. But there can be vague points even in the typical ideal description of a logistics property. Likewise, little blind spots are to be expected. "In Germany, there are a number of developing industrial clusters along with already existing ones," explains Jan Dietrich Hempel, Garbe Industrial Real Estate GmbH Board Member. "Until now they have not appeared in investment overviews for logistics properties locations, even though they are always in demand by good tenants and are therefore attractive to developers and investors."
Garbe Industrial Real Estate GmbH has analysed these clusters and included them in its business activities, because they make an excellent added value possible with the right logistics know-how. Jan Dietrich Hempel: "We have developed an approach here that we call the regionally specific interpretation of the generic logistics property."
The Salzgitter example: An industrial core of steel processing and vehicle construction is concentrated at this location, which has about 100,000 residents and is at the intersection of north-south and east-west transport corridors. Companies include Salzgitter AG, the Alstom Group, MAN Truck + Bus, ContiTech AG, Voith Turbo, Volkswagen and many other industrially related enterprises and an increasing amount of logistics space is always in demand. In the past, however, these logistics spaces have been built on the company's factory premises rather than off-site as an investor model. "That is now changing rapidly," says Jan Dietrich Hempel. "The factory premises are often maxed out, logistics are outsourced – and not just in terms of the space – because management of the floor space is passed on to contract logistics providers at the same time." The result is a stable rental market that will be attractive to investors for many years to come.
Important factors of an Industry Cluster
LOCATION
Logistic-, location- and market-related characteristics are of interest for the profitable commercialization of a space. Special characteristics include, for example, the size of the area, drainage, active political support, excellent transportation infrastructure.
NETWORK
Valuable exchange relationships are created by means of an economic network of producers, suppliers, research institutions, service providers with a certain regional proximity to one another, which in turn creates competitive advantages for all of the companies involved.
INFRASTRUCTURE
The connection to industry-specific transport routes, such as rail, waterways or roads, plays an extremely important role in the evaluation of a suitable location for a logistics property.
HOWEVER, IN THESE TYPES OF INDUSTRIAL CLUSTERS, THE TRIED AND TRUE RECIPE OF GENERIC LOGISTICS CONSTRUCTION WORKS ONLY IN PART,
because semi-finished steel products and components for lorries and railway cars are in general bigger and heavier than large amounts of consumer goods, consumer electronics and car parts. Different logistics profiles are needed for this reason, and they have to be taken into consideration during the project development phase. This is the case with the logistics centre that Garbe Industrial Real Estate GmbH built for Alstom in Salzgitter.
For Alstom, one of the world's leading manufacturers of rail vehicles, and Deufol, the logistics service provider commissioned by them, an area immediately adjacent to the factory premises is currently under construction with about 30,500 square meters of logistics space and 1,000 square meters of office space. The term of the lease is 15 years.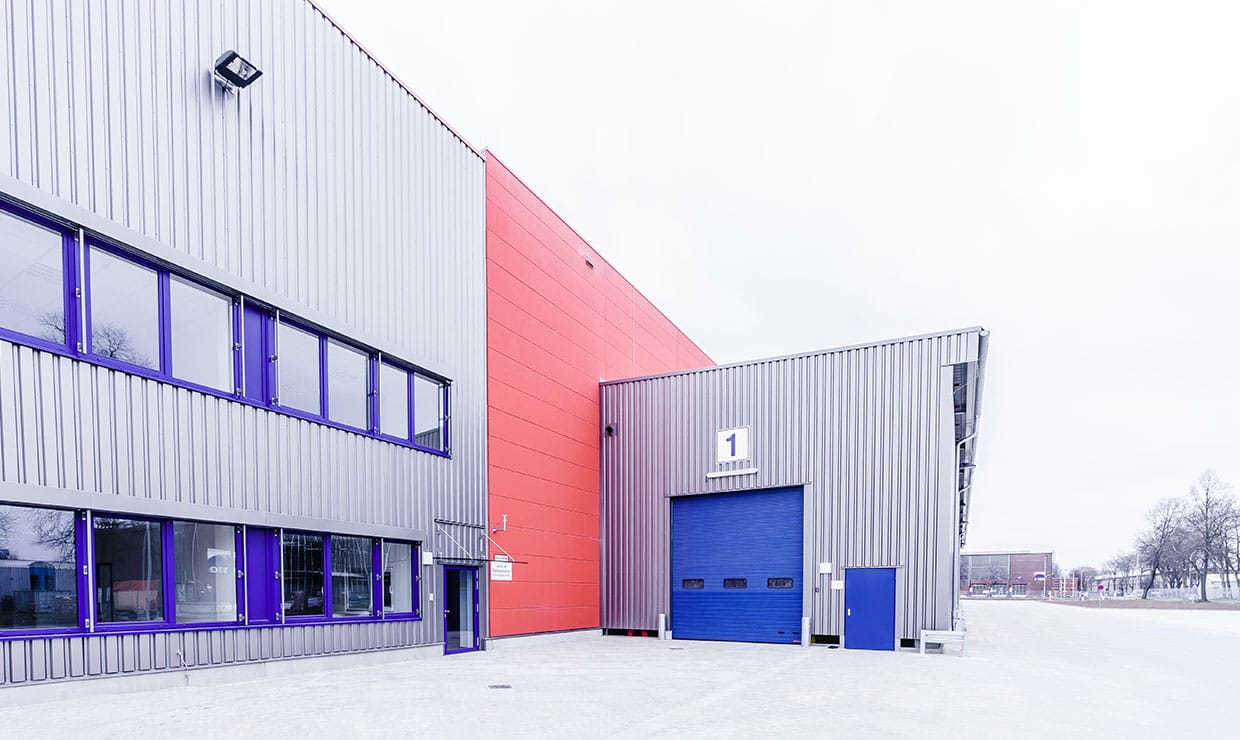 The new logistics centre, with 20,000 square meters of floor space, is expected to be operational in spring 2015 and supply Alstom's production facilities with components.
In addition to some "generic" requirements, the building characteristics also take typical requirements for the environment of an industrial cluster into account:
Increased floor loading capacity of 10 tons/qm
Ground-level construction
Crane tracks to 1/3 of the area
District heating (available regionally very economically)
This regionally specific interpretation of the project development has already convinced more companies to settle here. In the same industrial cluster not far from the Alstom complex, Garbe Industrial Real Estate GmbH is developing a logistics property for their long-term customer Rudolph Logistik with 20,000 square meters floor space and 800 square meters of office space for a local lorry manufacturing supply business. Requirements typical for such clusters, such as greater floor loading capacity, play a larger role here than they would in a standard property. Jan Dietrich Hempel: "These projects show that very good investment products are possible in attractive and evolving locations outside the coloured circles on the investment maps, and Salzgitter is just one example of many other viable cluster locations for investment."
WE HAVE DEVELOPED AN APPROACH HERE THAT WE CALL THE REGIONALLY SPECIFIC INTERPRETATION OF THE GENERIC LOGISTICS PROPERTY.

Jan Dietrich Hempel (CEO)