Light Industrial Real Estate
We create space for new
With its flexible uses, corporate real estate is one of the most attractive asset classes in the real estate industry. Whether office, production or service – corporate real estate as mixed-use commercial properties give room for many industries.
We develop, manage and market land and objects in this area throughout Germany, for example at attractive industrial and commercial locations in Hamburg, Lower Saxony, North Rhine-Westphalia, Berlin and Munich.
Corporate Real Estate – Different Building Types
By definition, a distinction is usually made between three types of corporate real estate, the exact demarcation of which is not always clear in practice – but perhaps does not have to succeed, because there are successful hybrids:
1. Production properties
These are usually individual halls of different equipment and size with a moderate height and often the same, sometimes also higher office share.
2. Warehouse and distribution properties
The size of less than 10,000 m² of hall space and the mostly older years of construction as an existing object and simpler equipment, but often with urban location distinguish these from the standard logistics property.
3. Transformation real estate
Transformation properties are mixed-use buildings, mostly revitalized commercial properties with a "red-brick" character and always with (internal) urban location.
Market values of the property categories of corporate real estate in billions of euros 2014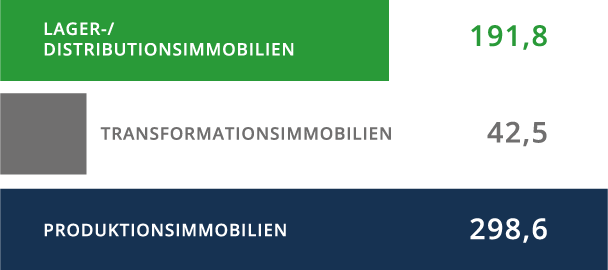 Successful through flexibility
Corporate real estate is successful because the versatile use of building types appeals to a very wide range of tenants from production, retail and logistics, and thus to an extremely large group of tenants.
A further value-added potential arises for many properties from their location in the metropolitan regions, because in many cases a higher-quality re-use of the property is an option.
Our current rental space
Are you looking for the right property for your company? Do you want the perfect location with a Western European orientation? Then take a look at our current rental space or contact us personally!
View rental space