Ground-breaking ceremony for research and production hall in Vorarlberg
News

13/10/2022

Hamburg/Mäder, 13 October 2022 – Garbe Industrial Real Estate GmbH is continuing its activities in Austria. In the municipality of Mäder in Vorarlberg, the Hamburg-based project developer is realising a research and production hall with a total area of 20,000 square metres. The tenant will be the dental technology company Amann Girrbach. Construction work officially began today with the ground-breaking ceremony. Completion is planned for the end of next year. The investment volume amounts to 47 million euros.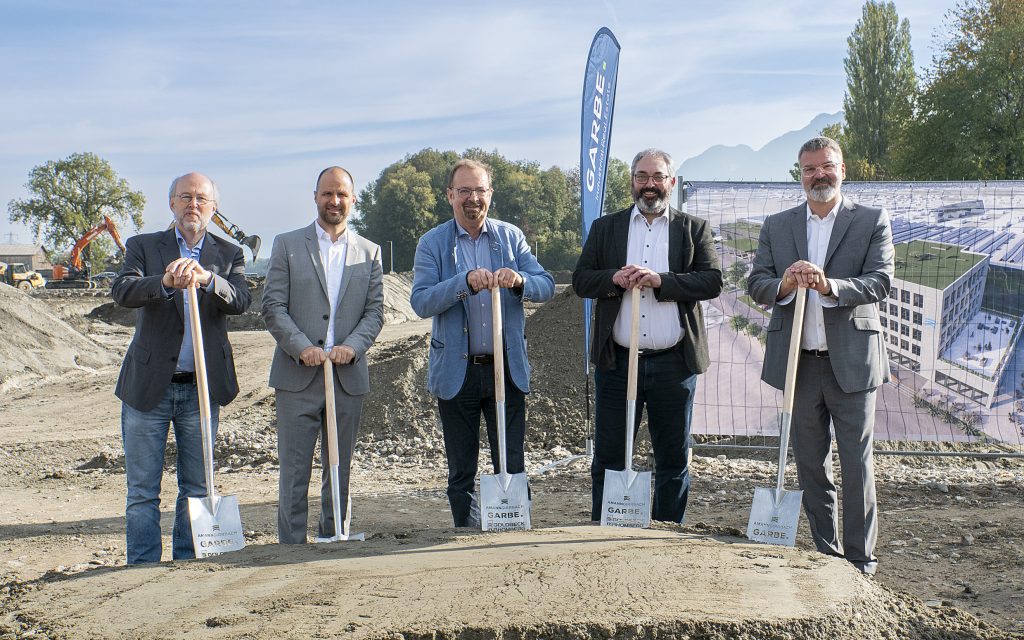 The property is being built on an approximately 22,000 square metre plot of land ready for construction, which Garbe Industrial Real Estate recently concluded a long-term building lease for. It is located directly on national road 58, connecting the site across the Rhine with the Austrian-Swiss border just a few hundred metres away and motorway 13, the most important north-south axis in eastern Switzerland. "For an internationally active company like Amann Girrbach this central location in the four-country corner of Austria, Germany, Switzerland and Liechtenstein is almost perfect," emphasises Jan Dietrich Hempel, Managing Director of Garbe Industrial Real Estate.
Amann Girrbach produces and distributes equipment and materials for the manufacture of dental prosthetics. With locations in Austria, Germany, the USA, Singapore, Brazil and China, the company specialises in digital dental prosthetics. Its customers include dental laboratories and dental practices. In addition to production, logistics and research, a training centre and administration are to be located in Mäder. "With the new building, we want to follow our own high standards – and create an atmosphere for our employees in which everyone feels comfortable and can work productively," emphasises Dr Wolfgang Reim, CEO of Amann Girrbach.
The representative new building is designed as a light production property. It comprises 14,500 square metres of hall space for production and research. In addition, there are 5,300 square metres for offices in the form of a tower. A canteen, a training workshop and an underground car park with 247 parking spaces are also planned. A further 76 car parking spaces will be created on the outside grounds.
Sustainability criteria play a significant role in the development of the new building. A powerful photovoltaic system is being installed on the roof to generate regenerative energy. In addition, part of the roof will be greened. The building is heated using a heat pump. "This makes the property somewhat independent of fossil fuels," says Jan Dietrich Hempel. The building is supplemented by a comprehensive green space concept, which includes a wildflower meadow, the planting of various native trees and shrubs as well as piles of stones and dead wood for insects.
For the new property, Garbe Industrial Real Estate is striving for certification according to the gold standard of the German Sustainable Building Council (DGNB).