Garbe Industrial Real Estate hands over multi-user property near Landshut
News

18/10/2021

Hamburg/Niederaichbach/Wörth, 18 October 2021 – After a ten-month construction period, Garbe Industrial Real Estate GmbH has completed a multi-user property with around 13,700 square metres of hall space in Wörth an der Isar (district of Landshut/Bavaria). The first tenant is the automotive supplier WMU Bavaria GmbH – Member of Sungwoo Hitech. The new building was officially put into operation during a symbolic handover of the keys.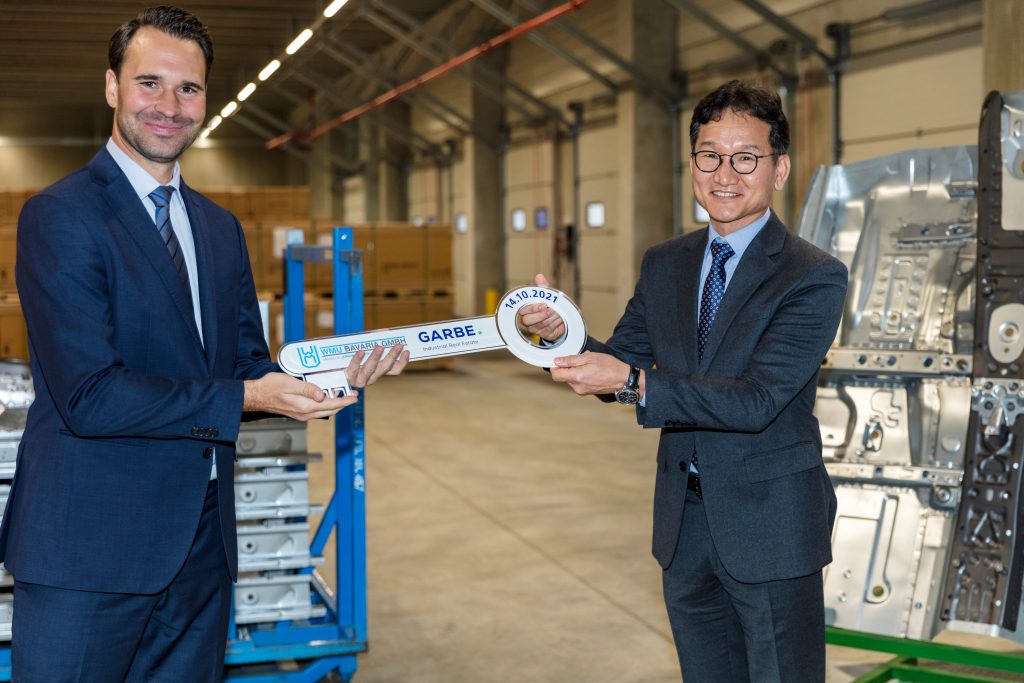 "Thanks to the good cooperation of all parties involved, we succeeded in completing the property on schedule within a very short time," emphasises Jan Dietrich Hempel, managing director of Garbe Industrial Real Estate. The property was built on a 33,400 square metre plot in the Moospoint industrial estate. The new building consists of two units. WMU Bavaria GmbH – Member of Sungwoo Hitech -uses 8,900 square metres including office and social areas. The anchor tenant manufactures car body parts for the automotive industry. Floor assemblies for various BMW series are stored in the new building. The production plants in Bavaria, but also the BMW plant in Leipzig are served from the dispatch warehouse in Wörth. The first deliveries have already been made. "My special thanks go to Garbe Industrial Real Estate and the general contractor Köster for the good cooperation and the regular exchange with our team," says Ki Chul Park, Managing Director of WMU Bavaria GmbH. "Everyone involved pulled together and contributed to the successful realisation of this project."
The location is a decisive reason for WMU Bavaria GmbH to rent the dispatch warehouse in Wörth. The headquarters of the automotive supplier with its production plant is located in the Niederaichbach industrial estate in Luitpoldpark, only 500 metres as the crow flies from the Wörth industrial estate.
Both the dispatch warehouse and the production plant are in the immediate vicinity of motorway 92, connecting Munich with Deggendorf. It takes about ten minutes to drive from the Wörth an der Isar junction to the BMW plant in Dingolfing, which receives regular deliveries.
The convenient location also plays an important role in the marketing of the remaining free capacities. In addition to the property for WMU Bavaria GmbH – Member of Sungwoo Hitech – another unit with around 4,800 square metres of hall space and 360 square metres for offices and social rooms has been co-developed. The part that has not yet been let has a special feature in the form of a 1,150 square metre loading tunnel that enables side unloading at ground level. The unit is suitable for commercial as well as industrial and production services. "We are in very constructive final talks with a specific interested party," says Adrian Zellner, member of the management at Garbe. "The high demand speaks for the quality of the location and the property. For this reason, we expect full occupancy in the coming weeks."