Alstom opens new logistics centre in Salzgitter
News

07/05/2015

Salzgitter, 07 May 2015 – Alstom has opened a new logistics centre at the factory premises in Salzgitter for the storage and management of rolling stock components. This centre improves the logistics processes at the site and ensures economical management and optimal supply of the production facilities on the factory premises.

The modern logistics system, which was developed for Alstom by Garbe Logistic AG, is situated on a 62,000 square meter property and has a floor space of 30,500 square meters. This is managed by Deufol Nord GmbH.

"We are taking a decisive step towards centralizing our logistics at the Salzgitter site with the new logistics centre. It replaces our previously used external warehouse and significantly shortens our material flows and transport routes. With the new logistics centre we can organize our processes in the factory even more efficiently and we also have lower rent and maintenance costs than we had previously. This means that we also increase our competitive advantage," says Didier Pfleger, Vice President of Alstom Transport in Germany and Austria and Management Spokesperson for ALSTOM Transport Deutschland GmbH.

At the opening ceremony, the Mayor of Salzgitter, Frank Klingebiel, had this to say: "For me, the new logistics centre represents a clear commitment by Alstom to the location in Salzgitter. I would like to assume that this will ensure the future presence of this long-established company with us. Alstom has a special significance here in Salzgitter and it is filled with great emotions. The city will also support the Salzgitter factory in its transformation process, which has been agreed between management and the works council."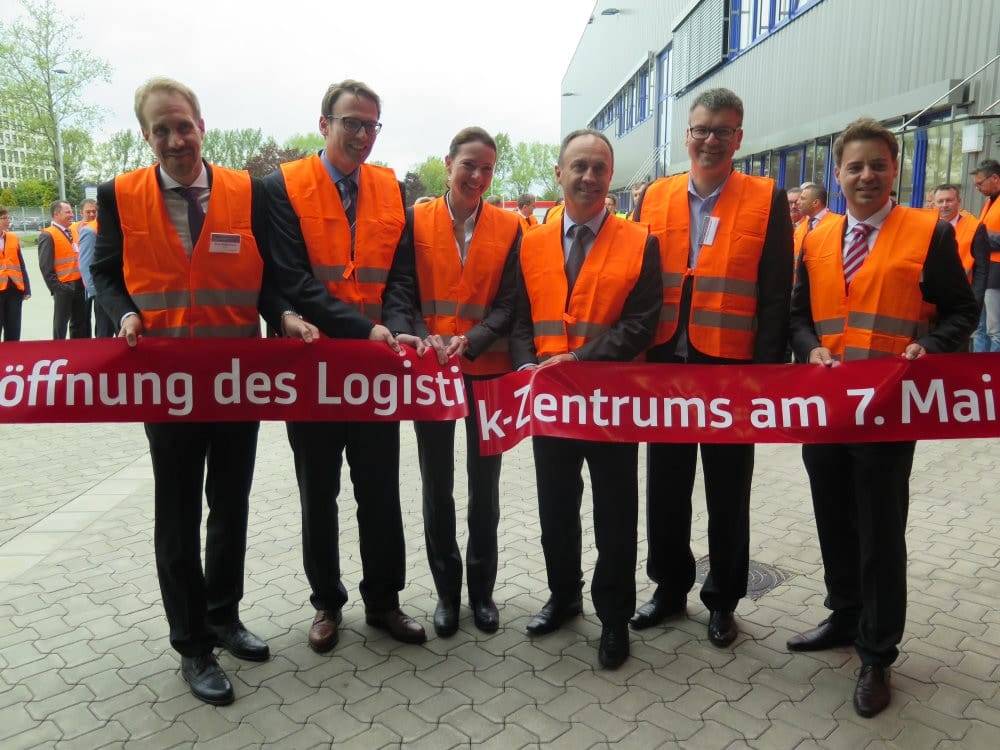 The building has an increased floor load capacity of 10 t/m2; it is multi-functionally designed and equipped with a centrally located crane system for handling heavy rolling stock components. This means that logistical processes can be optimized and production supply can be conducted even more economically. "These requirements go beyond normal building characteristics, but for an industrial cluster like Salzgitter they are quite typical," says Jan Dietrich Hempel, Garbe Logistic AG Board Director. "We are therefore delighted that we were able to convince Alstom with this distinctively regionally specific project development and win them as a tenant." Garbe Logistic will rent the property to Alstom for 15 years.
"We have been managing the external warehouse in Peine for over 10 years and we are proud that our concept as operator of the new logistics centre was able to convince Alstom. Since we consolidated all of the external warehouses in Peine in the interim, we are glad to be able to ensure the supply of the factory from the new buildings. We make use of innovative software solutions and our process know-how for this purpose," said Dennis Hübner, Managing Director of Deufol SE. There is already a long-standing partnership between Deufol and Alstom, which will continue with the management of the new logistics centre.
About Alstom Transport: Alstom Transport has the most comprehensive portfolio of systems, equipment and services for the railway market. The focus is on sustainable mobility. Alstom Transport is capable of offering turnkey solutions for an entire transport system – from rolling stock to signal technology and infrastructure – as well as maintenance and modernization. In the fiscal year 2014/15 Alstom Transport recorded a turnover of 6.2 billion euros and orders worth 10 billion euros. Alstom Transport has a presence in over 60 countries and employs approximately 28,000 people.
About the Deufol Group: Deufol Nord GmbH belongs to the Deufol Group, which is a global premium provider of packaging services and related logistics services. The range of services includes export and industrial packaging, automated packaging, data packaging, promotional and display packaging and services that are supplementary to the packaging process, such as the IT-based operation of logistics and distribution centres.
The stock exchange listed corporate group with headquarters in Hofheim (Wallau) is active in ten countries, with international branch offices at 77 locations, and has approximately 4,000 employees worldwide. The annual turnover in 2014 was 298.9 million euros.