All of Garbe is in an EM fever
News

23/06/2016

Great atmosphere at the Garbe public viewing event: The Garbe group invited everyone to the Germany versus Northern Ireland EC Group Final in the Alabama Cinema on Kampnagel.
More than 200 employees and business partners, as well as friends and family of the Garbe Group, arrived at the old site of the former crane factory on Thursday evening to feverishly await the entry of the German national team into the second round of the European Championship.

The Garbe Group prepared a grill party in front of the Alabama Cinema and thought of everything needed for a real public viewing: from flower necklaces to thunder sticks to German flags. Bubbles and colouring books were also provided for the little soccer fans. Of course, all of the physical comforts were also provided. The sumptuous buffet included sausages from the grill, delicious side dishes and summer salad creations for every taste. The atmosphere was a relaxed and cheerful.
To welcome the invited guests, Christopher Garbe himself climbed up on one of the bar tables and announced: "We are hosting a public viewing for the second time and we would like to thank all of our employees, business partners and customers for their collaboration and their trust." As a show of thanks for the successful preparation of the celebration he handed flowers and chocolate to the diligent assistants and organisers.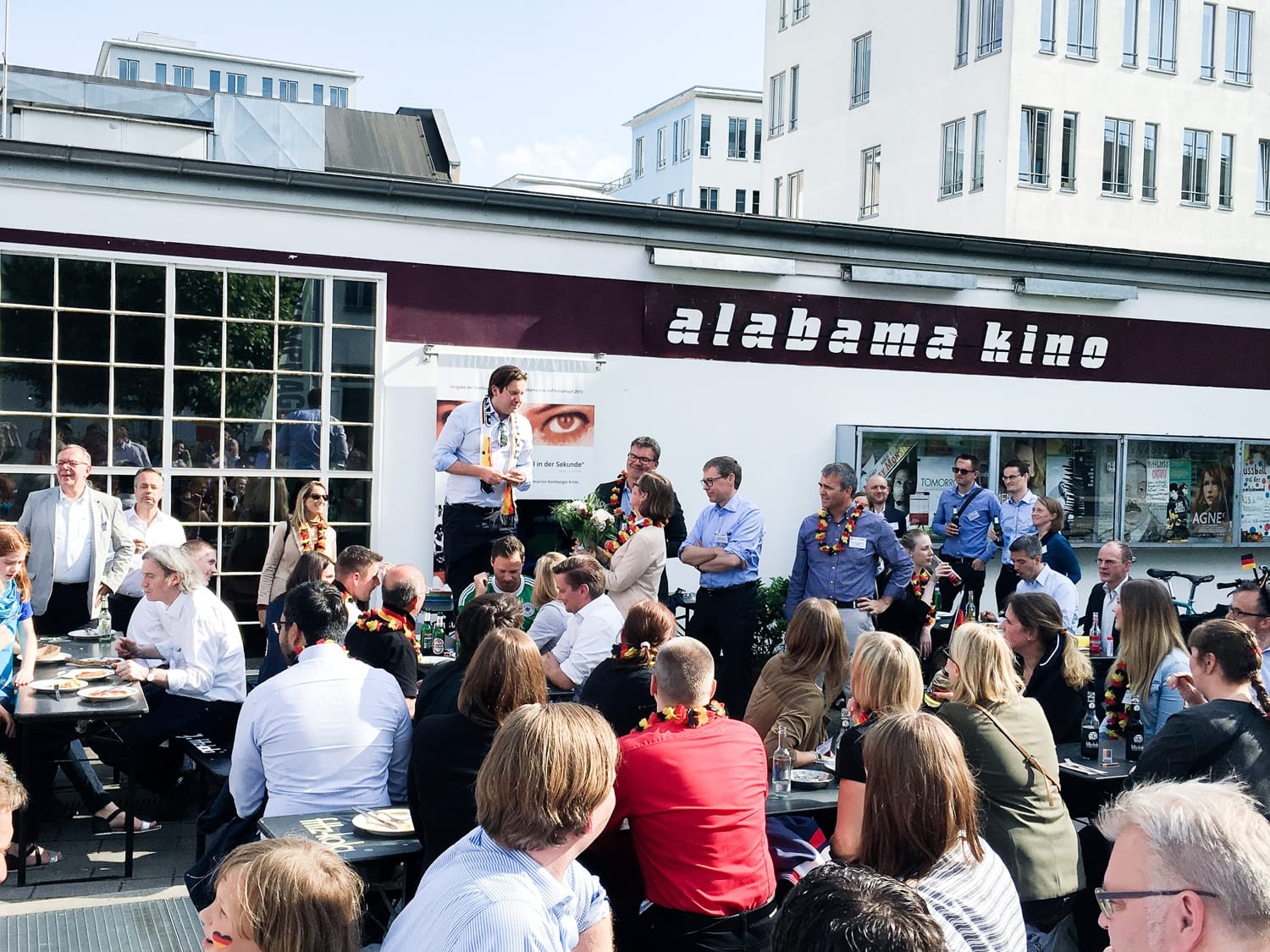 Just in time for the kick-off of the German match, everyone appeared in the hall to enjoy the game on the big screen. But after Thomas Müller missed the second chance for a goal, the mood became somewhat tense. Whilst the first spectators commented on the game excitedly in the back rows, those in the front rows were already anxiously holding their breath. But when Mario Gómez finally scored in the 29th minute of the game, there was no one left in their seats and all of the tension was gone.
Everyone there went to the buffet once again during the half-time break to fuel their cheers for the German team's victory in the second half. The German national team didn't score any other goals, but they didn't let their opponents score once and by the end of the summer evening everyone had smiles on their faces.