Nieruchomości przemysłowe
Tworzymy miejsce dla nowych projektów
Nieruchomości przemysłowe, dzięki swoim elastycznym możliwościom użytkowania, zaliczają się do najbardziej atrakcyjnych klas aktywów gospodarki nieruchomości. Nieruchomości przemysłowe jako obiekty przemysłowe użytkowane w sposób mieszany zapewniają przestrzeń wielu branżom – biurom, działom produkcyjnym lub serwisowym.
Rozwijamy, zarządzamy oraz sprzedajemy obszary i nieruchomości w tym sektorze w całych Niemczech. Przykładowo w atrakcyjnych lokalizacjach przemysłowych w Hamburgu, Dolnej Saksonii, Nadrenii Północnej-Westfalii, Berlinie i Monachium.
Nieruchomości przemysłowe – Różne typy budynków
Z definicji rozróżnia się zazwyczaj trzy typy nieruchomości przemysłowych. Ich dokładne rozgraniczenie w praktyce nie zawsze jest możliwe – być może nie jest to już potrzebne, ponieważ na rynku dostępne są odnoszące sukcesy hybrydy:
1. Nieruchomości produkcyjne
Są to najczęściej pojedyncze hale z różnym wyposażeniem i o różnej wielkości z umiarkowaną wysokością. Często na tej samej wysokości, częściowo też wyżej, znajduje się część biurowa.
2. Nieruchomości magazynowe i dystrybucyjne
Nieruchomości tego typu różnią się od standardowej nieruchomości logistycznej wielkością powierzchni hali poniżej 10 000 m2. Jako obiekty magazynowe są zazwyczaj budowane wcześniej i mają często prostsze wyposażenie. Są za to często zlokalizowane w miastach.
3. Nieruchomości przekształcone
Są to budynki użytkowane w sposób mieszany. To często zrewitalizowane nieruchomości przemysłowe z charakterem czerwonej cegły i zawsze zlokalizowane w mieście (w jego centrum).
Wartości rynkowe kategorii obiektów jakimi są nieruchomości przemysłowe są wyrażane w mld euro 2014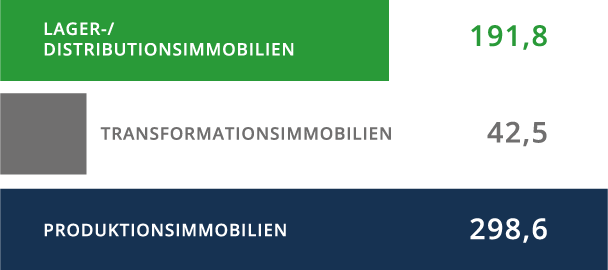 Sukces dzięki elastyczności
Nieruchomości przemysłowe odnoszą sukces, ponieważ wszechstronne użytkowanie tego typu budynków przemawia do szerokiego grona najemców zajmujących się produkcją, handlem i logistyką – tym samym do ekstremalnie dużej grupy najemców.
Dla wielu nieruchomości dodatkowy potencjał tworzenia wartości wynika z ich położenia w regionach metropolitalnych, ponieważ w wielu przypadkach istnieje możliwość późniejszego wykorzystania gruntu, który zyskuje na wartości.
Nasze aktualne powierzchnie do wynajęcia
Sie sind auf der Suche nach der passenden Immobilie für Ihr Unternehmen? Sie wollen den perfekten Standort mit westeuropäischer Ausrichtung? Dann schauen Sie sich jetzt unsere aktuellen Mietflächen an oder kontaktieren Sie uns persönlich!
Zobacz powierzchnie do wynajęcia