Historia pracownika – Sara de Lange
Ojczyzna zawodowa
Przyszłam do firmy GARBE latem 2016 roku za pośrednictwem agencji pracy. Moją pierwszą stacją była recepcja, z tego miejsca wspierałam firmę w codziennej organizacji pracy. To zdanie już daje wskazówkę: nie była to moja ostatnia stacja. Dzięki mojemu zaangażowaniu i wkładowi mogłam w krótkim czasie poczynić duże kroki w mojej karierze zawodowej.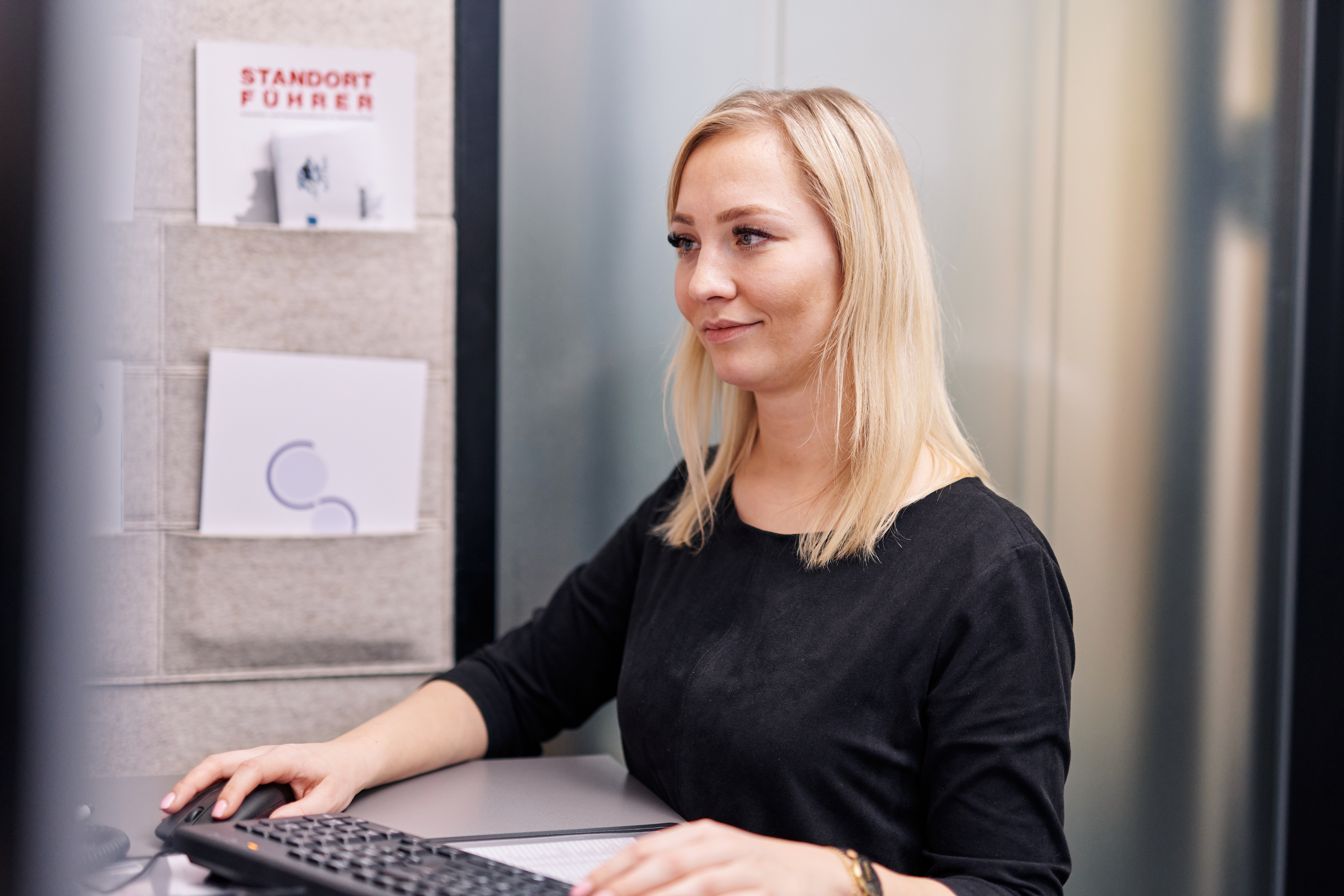 Różnorodny zakres obowiązków
Po ukończeniu studiów mogłam dalej udowodnić swoje umiejętności jako asystentka Christophera Garbe i działu personalnego oraz od grudnia 2019 roku jestem oficjalnie zatrudniona jako asystentka zespołu działu dystrybucji. Mogę tutaj codziennie korzystać z mojej wiedzy administracyjnej i talentu organizacyjnego oraz je dalej rozszerzać. Do moich zadań zaliczają się oczywiście podstawowe obowiązki, jak ewidencjonowanie, koordynacja terminów i prace związane z księgowością. Jestem też aktywna w obszarze typowym dla branży i wspieram mój zespół podczas tworzenia planów lub poszukiwania terenów pasujących do mojego portfolio.
Dlaczego pracuję dla firmy GARBE
Zusammenhalt im Team
Kurze Entscheidungswege
Eigenverantwortliches Arbeiten
Berufliche Weiterbildung
GARBE hat mich in meinem Können immer unterstützt und mich in meiner beruflichen Entwicklung vorangebracht.

Sara de Lange, Vertriebsassistenz
Rozwój dla firmy GARBE i razem z nią
W GARBE mam możliwość nie tylko wniesienia swojej wiedzy, a także jej poszerzenia. Jako osoba komunikatywna dobrze sprawdzam się w pracy na recepcji, w dziale dystrybucji oraz podczas ścisłej współpracy z moim zespołem. Cieszę się, że tak potraktowano mnie i moją wiedzę. Jestem ciekawa dokąd jeszcze doprowadzi mnie ta firma.
Aktualne oferty pracy
To wszystko brzmi całkiem interesująco? Więc ty też zrób karierę w firmie GARBE.
Cały czas poszukujemy interesujących ludzi. Sprawdź w naszych ofertach pracy,
jakich pracowników aktualnie poszukujemy.