Historia pracownika – Henning Reusch
Stały towarzysz
Od 2007 do 2012 roku pracowałem już dla części firmy GARBE Industrial – dla firmy 1st RED AG. Z biegiem lat zmieniłem pracę przedstawiciela handlowego, przechodząc do działu Investment Management, a pod koniec kierowałem działem Asset Management. Przez te lata nie utraciliśmy kontaktu – jest to kolejny powód, dla którego w 2018 roku ponownie wróciłem do firmy GARBE.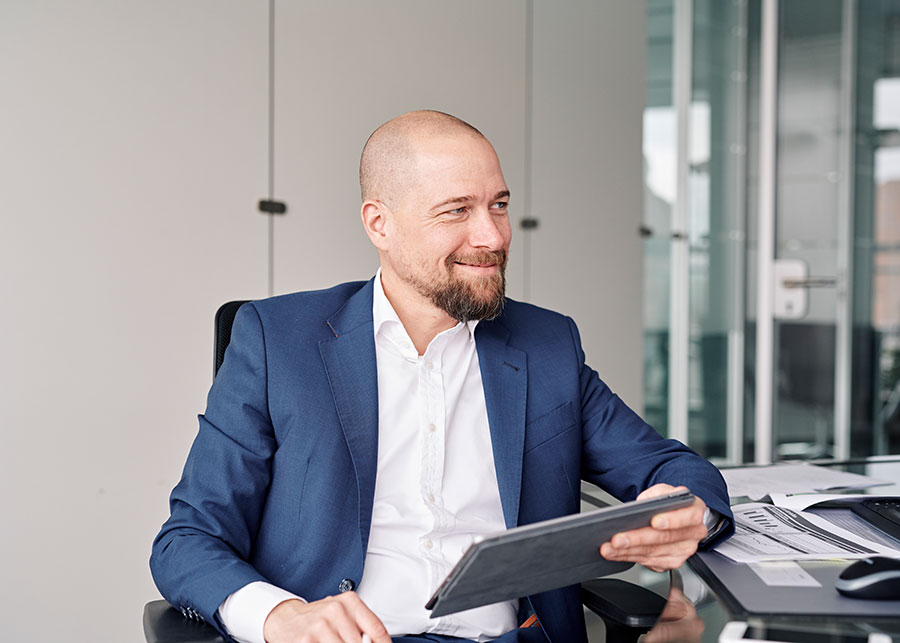 Urozmaicona codzienna praca
Względnie szybko zdałem sobie sprawę, że chciałbym powrócić znowu do firmy, ponieważ praca ta była fascynująca oraz bardzo wszechstronna. Dzięki nadzorowaniu różnych modeli funduszy – również spoza Niemiec – mogę racjonalnie rozbudowywać moje doświadczenie zawodowe i umiejętności. Dodatkowo jestem blisko projektów, mogę wymieniać fachową wiedzę z moimi kolegami z pracy oraz wnosić moją ekspercką wiedzę. I to z sukcesem: od września pracuję jako kierownik zarządzania portfolio.
Dlaczego pracuję dla firmy GARBE
Wszechstronność w pracy
Profesjonalna wymiana
Pracować niezależnie
Im Portfoliomanagement bin ich nah an den Projekten und im ständigen, fachlichen Austausch mit meinen Kollegen.

Henning Reusch, Leiter Portfoliomanagement
Najważniejszy argument? Zaufanie
Oprócz mojego zespołu, głównym powodem ponownego wybrania firmy GARBE jest swoboda w realizacji mojej pracy w sposób samodzielny i przede wszystkim według mojego uznania.
Aktualne oferty pracy
To wszystko brzmi całkiem interesująco? Więc ty też zrób karierę w firmie GARBE.
Cały czas poszukujemy interesujących ludzi. Sprawdź w naszych ofertach pracy,
jakich pracowników aktualnie poszukujemy.