Automatyzacja zastąpi ludzi. Produkcja i logistyka wracają na rynek docelowy
Nieruchomości logistyczne
Nieruchomości przemysłowe
Co to oznacza dla inwestycji w logistyczne nieruchomości produkcyjne i przemysłowe?
Położenie, położenie, położenie – niektóre kwestie się nie zmieniają. Popyt na powierzchnie produkcyjne i logistyczne będzie dalej wzrastał w lokalizacjach dobrych pod kątem strategicznym. Będzie przy tym wyjątkowo wzrastał popyt na lokalizacje w regionach metropolitalnych oraz w ich pobliżu z powodu bliskiego położenia do klientów końcowych oraz dostępnych sił roboczych. Ale też lokalizacje położne blisko ugruntowanych na rynku klastrów przemysłowych zyskują na znaczeniu, ponieważ producenci pierwotnego wyposażenia (OEM) i dostawcy coraz bardziej łączą się w sieci w kwestiach produkcji i bieżącego rozwoju. Ponadto bliskość przestrzenna wspiera bezpieczeństwo i prędkość.
Czy dla produkcji i logistyki może powstać uniwersalny budynek przemysłowy?
Jeśli celem jest bezpieczeństwo inwestycji w dynamicznym otoczeniu, to budynki muszą być użyteczne w sposób bardziej wszechstronny, aby uzyskać największą grupę zainteresowanych najemców. Zadania tego podejmuje się u nas zespół ds. opracowania projektów. Również podczas zakupu istotne jest spektrum użytkowania budynku. Ale czy istnieje najmniejszy wspólny "mianownik projektu" dla produkcji i logistyki? Tak, w obszarach częściowych. Przede wszystkim tam, gdzie chodzi o mniejsze lub średniej wielkości projekty logistyczne oraz wokół przejrzystej i kompleksowej produkcji bez ekstremalnych wymagań.
Opracowanie "Najmniejszego wspólnego mianownika"
Firma Garbe Industrial Real Estate na bieżąco opracowuje własny opis typu dla tego "uniwersalnego budynku". Zarówno nowy budynek, jak i istniejący budynek powinny posiadać jak najwięcej cech odfiltrowanych z różnych wymagań klienta, zapisanych w katalogu kryteriów i ekonomicznie kompatybilnych ze sobą w jednym budynku.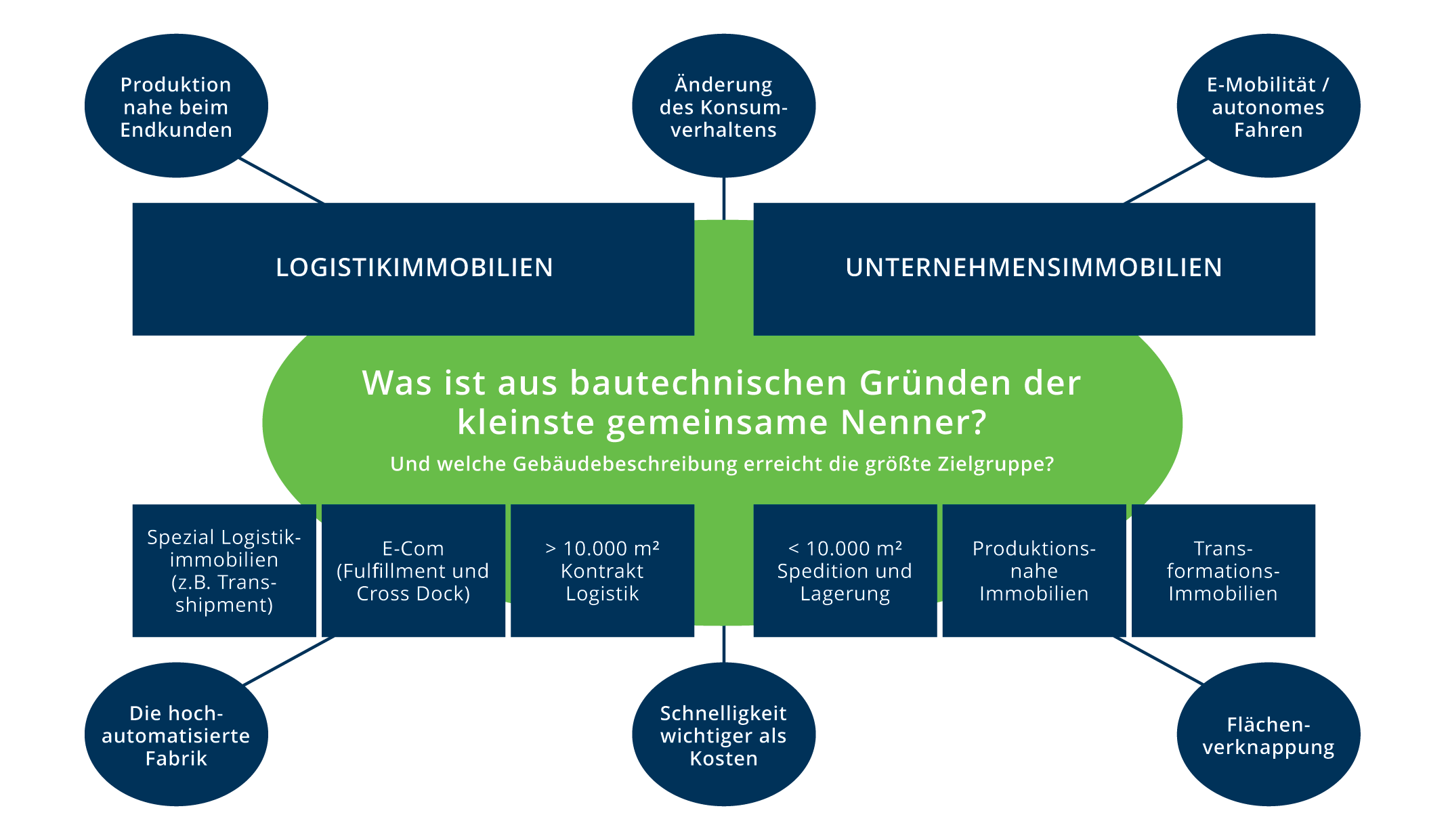 Bliska fachowa współpraca z branżą najemców zwiększa bezpieczeństwo inwestycji
Najważniejsze jest to, co się liczy: Naszym zdaniem: nie pomimo, ale właśnie ponieważ na rynkach nieruchomości przemysłowych i logistycznych występuje tak duża presja zmian wywierana na najemców i ich wymagania, rynki te zapewniają ponadprzeciętnie atrakcyjne szanse inwestycji. Zwłaszcza dla tych, którzy na bieżąco w szczegółach zajmują się tymi rynkami – podczas tworzenia produktu funduszu, jego zakupu i w bieżącym zarządzaniu funduszem. Przede wszystkim jednak po stronie najemcy: Trwały zysk jest inwestowany w rozwój nieruchomości i zabezpieczony długoterminowo przez zarządzanie aktywami.